Industrial Series: The Markforged X5
The Industrial 3D Printer for Strong Parts Reinforced with Fiberglass to Replace Your Aluminum Parts
The Markforged X5 was designed to give you strong parts faster and more affordable than standard machining. The X5 produces work-ready composite parts that combine the toughness of the Onyx filament Markforged is known for with the strength and stiffness of fiberglass reinforcement to be as strong as metal. Replace aluminum parts with your X5 3D printed composite parts for the perfect balance of strength and affordability.
Build Volume: 330 mm x 270 mm x 200 mm
Base Thermoplastic Materials: Onyx, Onyx FR
Internal Fiber Reinforcement: Fiberglass


Learn more about composite 3D printing in our online guide.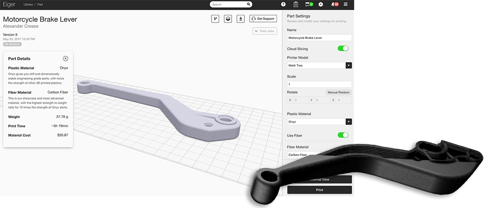 The X5 comes equipped with Eiger software and a touchscreen interface to make managing your 3D printing projects simple. Easily import and slice your 3D models while managing your fleet of printers directly in a web browser with this cloud-based software developed specifically for Markforged 3D printers.